De siste dagene har jeg jobbet med en" gaveboks".  Og ikke minst min første Tilda.  Fant dette skjønne stempelet av Magnolia's Tilda og tenkte det måtte være flott å prøve seg på.  Jeg har brukt Promarkers for å fargelegge, ser vel at det må litt øvelse til.  Har du sett gode tutorials på bruk av Promarkers blir jeg glad for tips!
Jeg har brukt en gammel boks og pyntet denne.  Fint å kunne ha litt gjenbruk av ting og 🙂  Papp og kartong er fra Bazzil,  My Mind's Eye Dreamy 2 kolleksjon, Delightful og Dazziling.  Ovalene og rundingene er "paddet" med Distress Ink i fargene Vintage Photo og Faded Jeans.   Jeg har i tillegg til stempelet fra Magnolia brukt stempel fra Anyone Can Stamp (Friend to Friend) og Kreativ Hobby.
Så da er det bare å fylle boksen med "goodies" og gi den bort!
Fremsiden: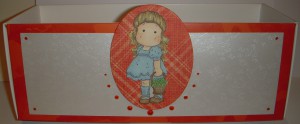 Baksiden: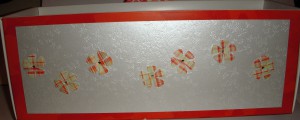 Under:

Ende/inni: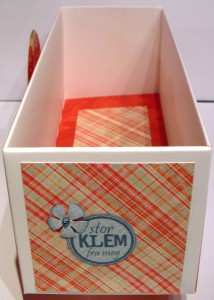 Ende/inni: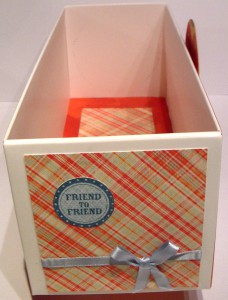 Fussy and Fancy Friday Challenge har og ute en utfordring denne uken som jeg har lagt gaveboksen min inn på.