Jul og mer julekort må til!
Denne gangen ble det et brettekort med mal fra Sakkalo.  Hjertene som stempelet av Henry the Mouse fra Whiff of Joy er stemplet på er kuttet med min eCraft maskin.  Resten er preget og kuttet med kuttebrettet mitt fra Fiskars.  Papir er denne gangen fra Papirdesign og Bazzil.  Jeg har og brukt Sticles og Liquid Pearls på stempelmotivet for å få litt tekstur og bling faktor overt det.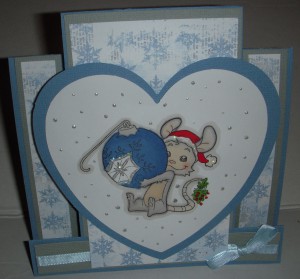 Inni kortet er det hjertestempel fra North Stamps som jeg har emosset.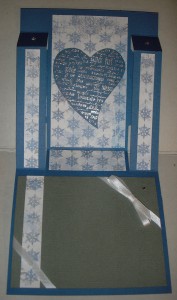 Dette kortet er med i Nordsalten hobbyklubb sin utfordring Blå.  Så da er det bare å krysse fingre!