Fant denne oppskriften via Lykkeliten.net sin blogg, den er opprinnelig fra Sakkalo og syns det er en fin mal som gir flotte kort.
Tenkte og at dette kortet blir med på Secret Crafter sin utfordringsblogg, der utfordringen denne ganger er "Anything goes as long as it Sparkles".
Min litt Henry the Mouse fra Whiff of Joy har jo fått litt glitter i luen og på julekulen han holder så da passer jo det bra.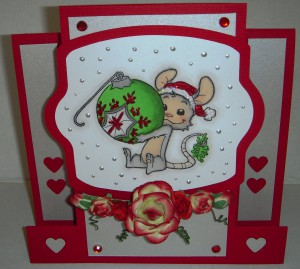 Ark er denne gangen fra Bazzil og Panduro.  Roser fra Kreativ Hobby.  Inni kortet er det stemplet et stempel fra North Stamps.